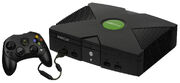 The Xbox is a console that was manufactured by Microsoft and first released on November 15, 2001. It was the company's first video game console after they collaborated with Sega to port Windows CE to the Dreamcast console. The Xbox sold over 24 million units and was discontinued in Japan in 2006, Europe in 2007, and finally North America in 2009.
Airforce Delta Storm was released on this console in North America in 2001, and in Japan and Europe in 2002.
Ad blocker interference detected!
Wikia is a free-to-use site that makes money from advertising. We have a modified experience for viewers using ad blockers

Wikia is not accessible if you've made further modifications. Remove the custom ad blocker rule(s) and the page will load as expected.